Founder and President
Articles by Kristen
Kristen grew up all over the south-east, ranging from as far north as Lawrenceville, Georgia to as far south as Deltona, Florida. In the course of her grade school education she went to a variety of different Christian schools where she was exposed to varying schools of faith within the Christian community. Always finding herself fascinated with issues related to the Bible, Kristen desired to learn all she could about the events, places and circumstances surrounding Scripture. Her first exposure to Christian apologetics was in 7th grade, when a teacher introduced her to the Enuma Elish and Gilgemesh Epic, while showing how they supported the Creation and Flood accounts in Scripture. As a result, she fell in love with the idea that historical evidence could support the message of the Bible. During her Junior and Senior year in High School, Kristen was ordained an elder at Deltona Presbyterian Church where she taught the Junior/Senior High Youth Group. During a Q&A session with some of the youth, Kristen observed God working in the lives of the students, by answering questions that were a stumbling block to their faith. It was during this time that Kristen first sensed God calling her to ministry. Over the course of the next few years God answered Kristen's own questions surrounding her faith and used those questions to develop her calling.In 2006, Kristen went to Israel to explore the world of the Bible. In 2009, she went to India to study Middle Eastern religions first hand and in 2010, she went to Jerusalem, Israel for an archeological dig with Dr. Randall Price at the Temple Mount Sifting Project and the Western Wall Plaza Excavation.
Kristen graduated Summa Cum Laude from Liberty University with a Bachelor of Science in Religion and graduated with a Master of Arts in Christian Apologetics with Highest Honors from Biola University. She is currently researching doctoral work.
Kristen has a heart for God. She fell in love with Apologetics as a result of her desire to be able to rationally defend her faith in light of skeptics and other world religions. She has personally experienced the confusion that comes with uncertainty about what you believe. Her passion is to enable individuals to be able to defend their faith in order to promote their spiritual growth and enable them to be more effective evangelists for Christ.
Kristen is a Systems Integration Engineer at Sungard AvantGard. She is an Assistant Professor of Apologetics at Houston Baptist University and an Adjunct Professor of Ethics at Southeastern University's Jacksonville campus. She is the Founder of DoubtLess Faith Ministries, an Associate of Associates for Biblical Research and on the speaking team of the International Society of Women in Apologetics.
Features: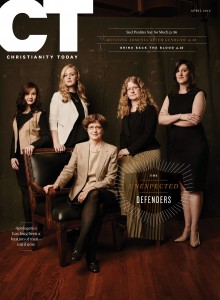 The Examiner
Hard Core Christianity
Kristen's CV

Education

Biola University, La Mirada, CA
M.A. in Christian Apologetics (Graduated with Highest Honors)
2011-2013
Liberty Baptist Theological Seminary, Lynchburg, VA
M.A. in Global Apologetics (Transferred to Biola University before graduation)
Focus: World Religions
2010-2011
Liberty University, Lynchburg, VA
B.S. in Religion (Graduated Summa Cum Laude)
2007-2010
University of North Florida, Jacksonville, FL
A.A. Degree
2004-2007

Teaching Experience

Houston Baptist University, Houston TX
Assistant Professor of Apologetics
August 2014-Present
Southeastern University, Jacksonville, FL Campus
Adjunct Professor of Ethics
January 2014-Present
Founder of DoubtLess Faith Ministries
An apologetics ministry in Jacksonville, Florida, which currently provides the following:

An online community which provides regular resources for those seeking to know about the reliability of scripture.
Instructional courses at multiple churches in Jacksonville.

Apologetics seminars in Jacksonville. The first took place on July 12-13, 2013 at The Church of Eleven22.

A radio ministry which plays 60 second snippets of apologetic answers each work day on the local Christian radio station.
As a ministry we're in the beginning stages of putting together a trip to Israel for summer 2014 to expose people to the land of the Bible

November 2010-Present
Discipleship Group Teaching Leader at The Church of Eleven22

Teaching individuals that have committed their lives to Christ how to be disciple making disciples of Jesus.
Includes teaching practical application on personal spiritual development, how to mentor others, servant leadership, etc.

February 2013-Present
Chets Creek's Life University
Teaching a modified version of Lee Strobel's "Faith Under Fire" series with the following objectives: equipping with logic, reasoning, the ability to identify arguments against Christianity and accurately address the given argument based upon their current level of knowledge, equip students with additional information and arguments to strengthen their current level of knowledge regarding the Christian worldview.
August 2012-Present
Mandarin Presbyterian Church
Teaching a modified version of Lee Strobel's "Faith Under Fire" series with the following objectives: equipping with logic, reasoning, the ability to identify arguments against Christianity and accurately address the given argument based upon their current level of knowledge, equip students with additional information and arguments to strengthen their current level of knowledge regarding the Christian worldview.
January 2012 – December 2012
Co-founder of Ratio Christi Chapter at University of North Florida
Responsibilities: Facilitation of meeting presentations includes but is not limited to oral presentations on a number of apologetic topics, as well as the training of students in the ability to articulate the rationality of the Christian faith in a variety of areas.
November 2011 – 2012

Work Experience

Sungard AvantGard
May 2014 – Present
Beeline
Lead Automation Engineer

Skills: C#, .NET, SQL, Ruby, Watir, XML, HTML, JavaScript, Resource Utilization, Project Planning, Project Oversight, Training
Managerial Responsibilities:

Management of automation team directives. Identification of team objectives. Project resource allocation. Created and defined automation processes, test framework and test library.
Management of annual road map. Identification of areas for automation across multiple projects.
Manage team in the Philippines from Jacksonville. Training New Employees both on site and offshore, including problem solving/trouble shooting, mentoring and code reviews – showing my ability to effectively communicate no matter the obstacle.

Technical Responsibilities:

Code reviews. Management of technological resources.
Management of tool migration. Converted entire test suite from Ruby/Watir to C#/Selenium. Created and implemented custom automation framework/tool in C#.

Additional skills – Assist the performance engineer in running performance scripts.

August 2007 – May 2014
July 2012 – May 2014
Automation Engineer II

Skills: Ruby/Watir, QTP, VBScript, XML, HTML, Project Planning, Training
Creation of automated regression scripts for the Contingent Workforce Solution application
Coding client implementation tickets for Beeline Contingent Workforce Solutions
Using Microsoft Visual Studio and coding in C# for previously mentioned projects
Writing and testing scripts for Quality Assurance Testing; using Quick Test Professional and coding in Visual Basic
Training New Employees both on site and offshore, including problem solving/trouble shooting, mentoring and code reviews
Created & designed Beeline's initial Automation framework, which allow for more proficiency and effectiveness.
Implemented and improved Beeline's second Automation framework, which allowed for more versatile testing.

Required object oriented programming in Ruby (Watir).
Designed reporting mechanism for error handling, including the use of XML, XSLT and HTML.
Designed Beeline's Automation synchronization methodology to handle unpredictable page load times in regression testing.

My strengths consist of an overwhelming desire and ability to learn new things and take on new challenges and a customer service oriented personality. Works well with various languages and I am willing to learn new ones. Learned Ruby and C# and was training new employees within 3 months. Exceptional problem solving skills and excels in Mathematics. Structured and well organized which suits working with deadlines and am extremely self motivated.

November 2008 – July 2012
Automation Consultant

Skills: QTP, VBScript, Test Case Automation, Mercury Test Tools
Review manual test scripts and create an automation strategy documenting process for automating test scripts. Utilize Quick Test Pro to automate manual test cases. Modify automation scripts using vb script and ruby. Knowledge of HP Quality Center.

August 2007 – November 2008
Software Engineering Intern

Re-writing the Business Time and Expense Application
Coding client implementation tickets for Beeline Contingent Workforce Solutions
Using Microsoft Visual Studio and coding in C# for previously mentioned projects

Merrill Lynch
FIT ~ Intern

Creation of macros for Excel workbooks via Visual Basic
Database knowledge: Work with ClearQuest to pull data and run queries from the Servers
Data Analysis: charting of trends, control charts, probability distributions

June 2007 – August 2007
Duval County Clerk of the Court
Systems Management ~ CSAII – IT Support

IT Support & Help Desk Technician: Supporting Windows XP, Case Management Systems, Microsoft Office Programs, SQL Databases (user side) for 550 users
Project Supervising, Purchasing & Inventory Tracking: Orchestrate/Organize office improvements & floor plans, Handle purchasing of required materials from City Vendors, Manage Inventory of Systems Management including all PC's, Monitors, Servers, etc.
Public Relations materials creation & publishing, Multimedia Film Development: Creation of advertisements, Clerk's Flyer, Newsletters, Communications to users. Mainly work with creating print. Work with video creation via Sony Vegas Movie Studio Platinum 7.0, picture editing via Photoshop, Clerk's Flyer and Newsletters via Microsoft Publisher. I work with digital cameras and camcorders creating moral building projects & employee participation projects.
I work with a team of 2 Network Personnel, 4 Software Programmers, 4 Help Desk Technicians and 2 Server Support Personnel

April 2006 – April 2007
Deputy Clerk ~ Circuit Civil

Organization, Data Entry: The job required file organization and inputting information into the Case Management System.
Customer Service: Answering phones and aiding the public in the office in questions regarding their case and other concerns. Worked daily with approximately 300+ customers
Cashiering: Entrusted with approximately $20,000+ daily, dealing with approximately 100+ customers/transactions daily

June 2004 to April 2006
Jackie Z Photography ~ Photographer's Aid

Image & Album Editing
Photography Shoot Aid
Billing & Customer Service

January 2004 to May 2004

Areas of Academic Research/Interest

My primary area of interest is Biblical Archaeology, more specifically Old Testament archaeology. In 2010, I went on a dig with Dr. Randall Price of Liberty University at the Temple Mount sifting project as well as the Western Wall Plaza Excavation. My thesis with Biola University was on the religious artifacts of Tel Dan during the Late Bronze age and Early Iron age as they relate to the Biblical conquest account.
Philosophy in the areas of Worldview, Culture and Ethics
World religions: I have been to India to study some of the most adhered to religions of the world (Islam, Hinduism, Buddhism), while also getting the opportunity to explore some less famous shoot offs of these religions (Jainism and Sikhism).

College/University Courses Taught

PHIL1310 – Logic
PHIL2003 – Principles of Ethics

Speaking

"Paganism and the Christian Worldview"
Demonstrating the resurgence of paganism through the study of ancient paganism, including a comparison with the Christian worldview and a means for engaging pagans.
At Evidence 2014 Conference – Fresno Pacific University – Fresno, CA
February 2014
"Old Testament: History or Hoax?"
The historical reliability of the Old Testament through archaeology
At the "DoubtLess Faith Seminar" at the Church of Eleven22
July 2013
At the Reasons to Believe Chapter
Fall 2013
"Archaeology and Christian Apologetics"
Westminster Presbyterian Church – Deland, FL
August 2010
Deltona Presbyterian Church – Deltona, FL
August 2010
"Christianity and Middle Eastern Religions"
Deltona Presbyterian Church – Deltona, FL
March 2010

Events Organized

The "DoubtLess Faith Seminar" at the Church of Eleven22

500+ attendees
Responsibilities: Speaker, event organization, scheduling, promotion, booking of speakers, etc.

July 2013

Affiliations

Associate of Associates for Biblical Research
Evangelical Philosophical Society
International Society of Women in Apologetics
September 2011 – Present

Travel

Israel
An exploration tour of the world of the Bible
May 2006
India
For a Middle Eastern Religions Study Course
October 2009
Jerusalem, Israel
For an Archaeological dig with Dr. Randall Price at Temple Mount Sifting Project and Western Wall Plaza Excavation
May 2010

Publications

Publications

Additional Ministry Experience

Youth Group Director
Deltona Presbyterian Church – Deltona, Florida
Responsibilities: Facilitated the youth group, including organizing and arranging activities, teaching youth group lessons and mentoring students
2002-2004
Christian Education Committee Elder – Ordained Elder
Deltona Presbyterian Church – Deltona, Florida
Responsibilities: Facilitated the Christian Education Committee
2002-2004
Central Florida Presbyterian Youth Council Member
Central Florida Presbytery
Responsibilities: Helped create and organize youth retreats, weekend workshops and summer camps, including event planning and preparation along with teaching and mentoring of youth.
2002-2004