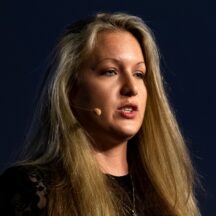 Ph.D. Philosophy of Religion
Christian Apologist

Senior Software Development Manager
Kristen Davis is the Founder of DoubtLess Faith Ministries and speaks internationally. She graduated Summa Cum Laude from Liberty University with a Bachelor of Science in Religion. She has a Masters of Arts in Christian Apologetics (Highest Honors) from Biola University, and has a PhD in Philosophy of Religion from Southern Evangelical Seminary.
She is the Senior Manager of the Systems Integration team for a financial tech company where she leads an international team of software developers in building and supporting multiple applications.
She studied World Religions in India and Biblical Archaeology in Israel and her passion is to defend the truth of Christianity through the use of both philosophy and archaeology.